Regular price
Rs. 499.00
Sale price
Rs. 279.00
Unit price
per
Sale
Sold out
OUR CUSTOMERS JUST LOVE US :

Luster Neem Anti Acne Face Pack is Made with the Neem, Mint, Clove & turmeric Extracts that helps To Remove Acne From skin, reduce pigmentation and Anti Acne Face Pack with Pimple Clearing Formula.

Read More

Neem Anti Acne  Face Pack for Glowing Skin and It also balances the oil production with 100% pure Natural Extracts, leaves skin soft smooth and visibly lightened
Neem Anti Acne Face pack helps to Clears Pimples & detoxify the skin. It makes the skin look visibly Brighter, Fresher and Revitalized. Neem Face Pack for women & Men For Acne Control.
The properties of all the natural ingredients used in Luster Neem Face pack helps to Making Skin Pimple Clear and It also Gives You Natural Fairness .Using it will Give you Natural Fair &  glowing skin.
It Makes Dull Skin Bright and Clear. Gives a Radiant Glow to your Face. Protects Skin's Natural Moisture Balance. Provides Deeply Cleaned, Tingly-Smooth Skin.

Description :-

Luster Neem Face Pack | Anti Acne & Pimple Clearing | Fairness Face Pack | For Glowing Skin, Dry & Oily Skin | Anti acne Face pack | For Men & Women | Paraben & Sulfate Free - 200 g. Luster neem face pack enriched with the goodness of neem oil, turmeric water, spearmint oil & clove oil helps reduce the secretion of excess oil, clean clog pores and prevent pimples. Neem is an excellent skin care ingredient, it helps the skin from not drying out, prevent itchiness and redness, turmeric has properties which soothe the skin gently. Removes dirt, pollution and excess oiliness from the skin dries off quickly and washes out easily cleanses out the skin very effectively made with natural ingredients.

Neem face pack helps even out one's skin tone as the antioxidants in neem help reduce dark spots, pigmentation and other blemishes, making the skin spotless. Neem face pack helps reduce acne due to its antibacterial properties. It eliminates any kind of breakouts and soothes itchy skin too. It has agents which actually kill acne-causing bacteria, which is why it can be trusted to treat acne. The best part is, neem performs all these functions without drying your skin! By applying neem face pack topically, one can prevent skin infections. The anti-bacterial and anti-fungal properties of neem protect the skin. One more magical property of the neem face pack is that it helps lighten blemishes or scars left behind by acne or pimples
Share
View full details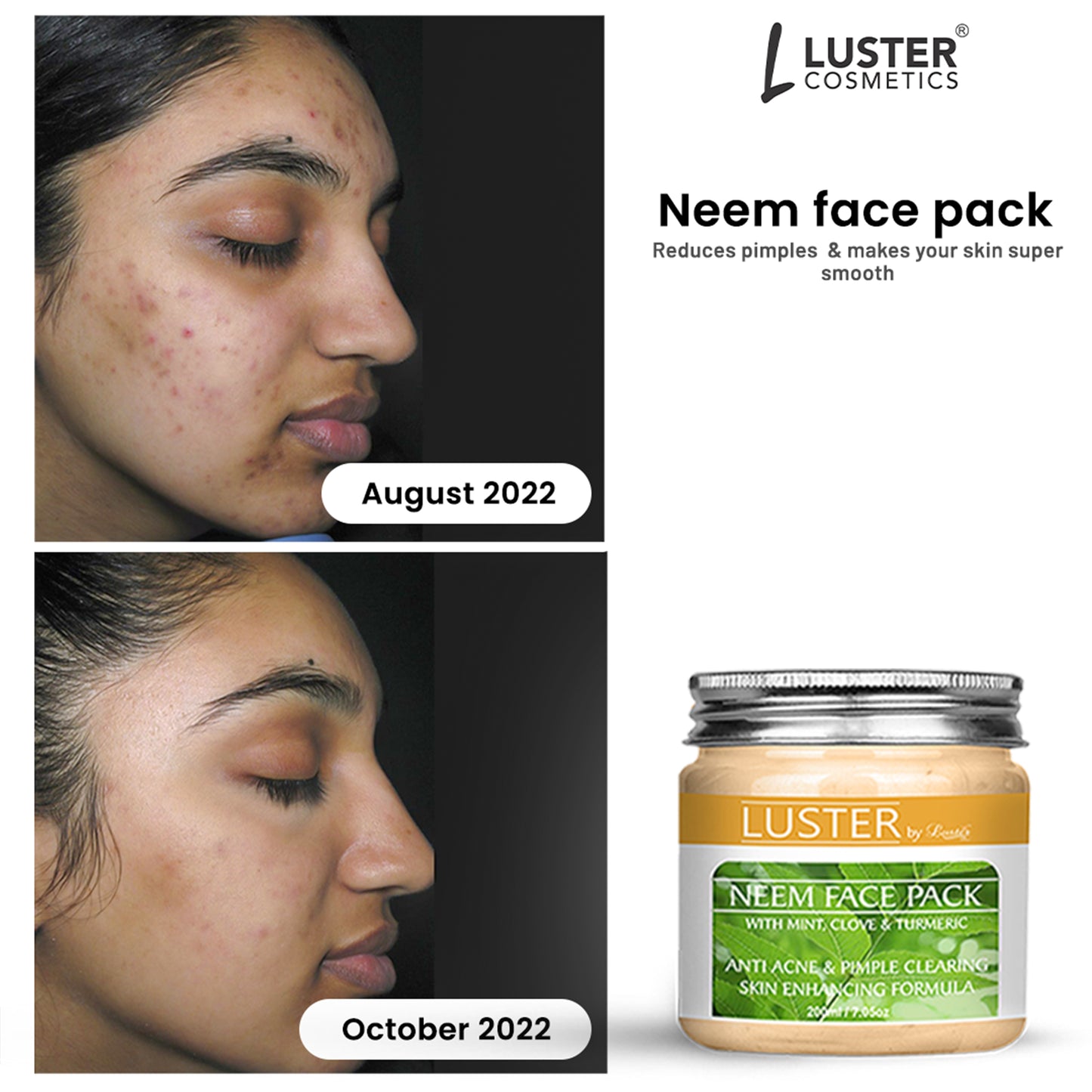 Doubts
Should we add water to apply before using on face
Luster Neem Face Pack - 200g
Luster Neem Face Pack | Anti-Acne | Pimple Clearing | Ayurvedic Face Pack | With Turmeric, Mint & Clove | Paraben Free | 200 g
None
I starting used before few days not desrible result yet i am waiting better result come soon
Important Terms and Conditions for online accounts opened through OTP based Aadhaar authenticati...