Regular price
Rs. 250.00
Sale price
Rs. 249.00
Unit price
per
Sale
Sold out
Product Details
Luster Insta Glow Oxygen Boost Facial Kit | 6 Step Facial Kit | Single Use Mini Facial Kit | Instant Glow Facial Kit | For Women & Men | All Skin Types (Paraben & Sulfate Free) – 40g. It Enriched with the goodness of Pea, Ylang Ylang Oil & Licorice Extracts. With Oxygen Boost Advanced Skin Care Technology & Essential Oils that Impart whitening Glow to Your Skin With Skin boost Serum. Insta Glow Facial Kit Provide Instant Glow to the skin and Revitalizes skin cells along with Providing glow. it Keeps Skin Fresh & ever Glowing. Insta Glow Facial Kit also giving Soft & smooth Finish to Skin. It suits all types of Face skin. Luster Cosmetics Insta Glow is an Amazing Facial kit that Boost Your Skin Glow & Restores Glowing Skin & Clear Dull Skin. It Contains skin lightening Properties with an improved complex Skin. It Helps Restore Skin Moisture & Provides Soft & Smooth Skin With goodness Of Natural Extracts. It overcomes dryness and cleans the skin thoroughly. Made from Natural and Healthy Ingredient to suit all types of skin and It Gives You Best Result.

How to Use Insta Glow Facial Kit:
Step 1: Cleansing:-

 

After Cleaning Face With Toner or Lukewarm Water, take a hazelnut-sized amount of product and massage gently into moistened skin & cleanse it to prepare for a facial ride.
Step 2: Facial Scrub:- Apply the scrub all over the face. Massage gently in upward and outward circular movements for at least 5-7 minutes. Use water if needed and be very soft and gentle with the strokes. Wipe off with moist cotton.
Step 3: Facial Massage Cream:-

 

Apply on Clean Face & neck Avoiding Eyes. Moisten Hand with cold Water and Gently Massage for 5-10 Minutes using Upward & outwards Strokes. Leave For 10-15 minutes And Remove with Damp cotton.
Step 4: Nourishing Massage Gel:-

 

After Facial Cleansing & Exfoliation, Apply generously to the area of importance. Massage well for 5-7 Minutes & rinse off using wet cotton swab or lukewarm water.
Step 5: Radiance Facial Mask:- Apply the mask in a thin, even layer around your entire face. Wait 10 to 15 minutes to let it dry on your skin. Rinse with warm, not hot, water. Use a soft washcloth or wet cotton swab for easier removal.
Step 6: Post Facial Nourishing Serum:- After the facial is completed, apply face serum all over the skin to wrap it up.
Share
View full details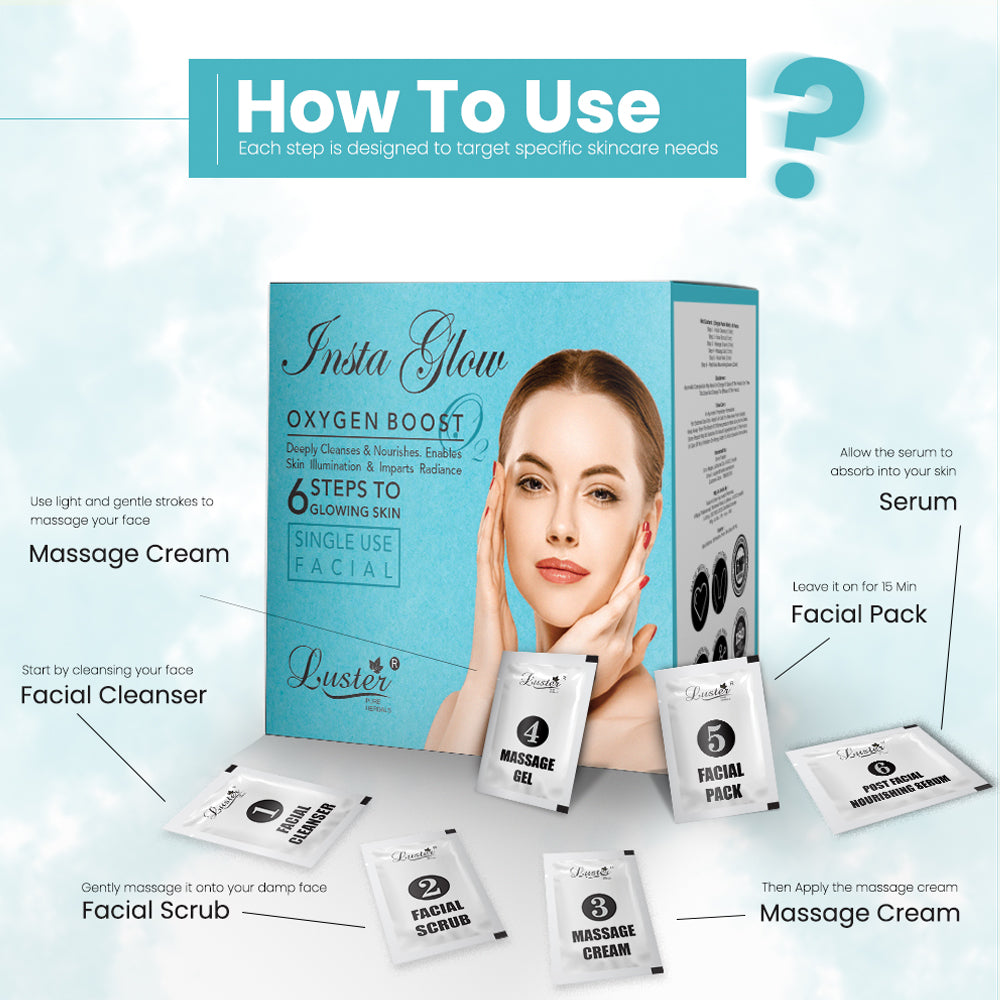 great deal in this price....awesome products
Its a wonderful product and a good result of this product.
Good quality product. Packaging is really impressive! Product texture was very nice and value for money also...😊😊😊
nicely packaged,timely delivered also good item must give a try.
Awesome product, must try! And nice packaging!