Regular price
Rs. 399.00
Sale price
Rs. 299.00
Unit price
per
Sale
Sold out
Product Details
Luster Dark Circles Correction Under Eye Serum-30 ml
All our products are natural and bio-active ingredients that are sourced from the Earth. This nutrient-rich Serum is formulated with Organic ingredients that are toxins-free and suitable for all skin types.

it helps tighten the skin under the eyes naturally.

Luster Dark Circles Correction Under Eye Serum boosts skin health by nurturing it with vitamins B3 and C. Both the vitamins are known for their antioxidant activities. Vitamins helps in retaining the natural hydration of the skin.
Benefits of Luster Dark Circles Correction Under Eye Serum
• Reduces puffiness and lightens dark circles.
• Nourishes and tightens the delicate skin around eyes.
• Brightens and rejuvenates under eye skin.
• Make eye skin healthy and fresh.
• Can be applied anywhere, anytime as the serum is crafted according to all skin types.
How To Use : 
.
STEP 1
Take pea-size amount of serum with your ring finger
STEP 2
Dab it on the skin around the eyes.
STEP 3
Use twice daily : Hydrates, rejuvenates and brightens under eye skin. Helps reduce dark circles, puffiness, dryness and fine lines.
Share
View full details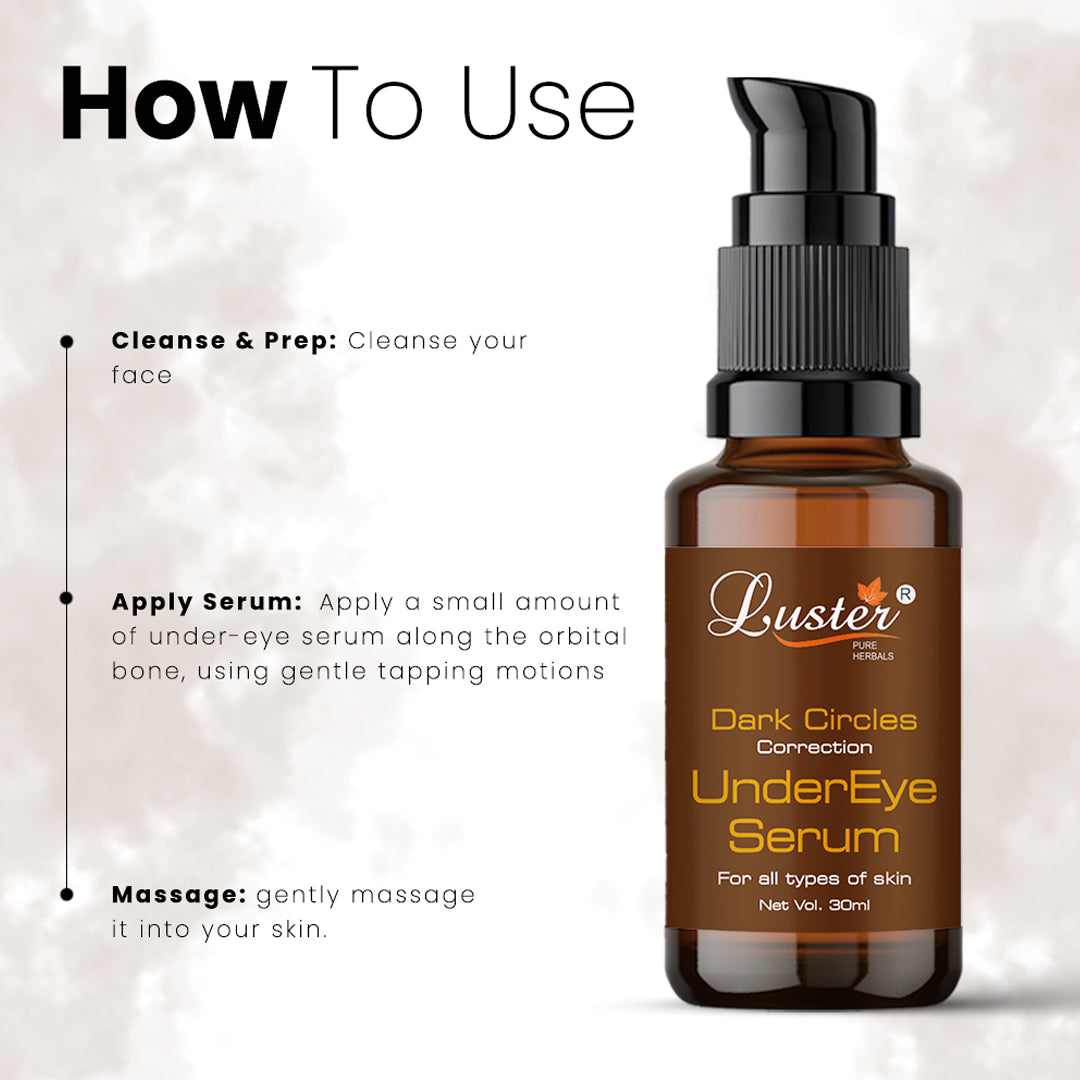 Luster Dark Circles Correction | Under Eye Serum | Reduces Puffiness | Lightens Dark circles | Brightens under eye skin | 30 ml
it's very recommended because it's not made from chemicals and only natural
Very good under eyeserum . Very useful product. No side effects. Recommend to buy.
Best serum for under eye! Reduces dark circles, cost effective method for reducing dark spots.