Regular price
Rs. 350.00
Sale price
Rs. 299.00
Unit price
per
Sale
Sold out
Product Details
Luster Apple Cider Foaming Face Wash is Made with the Natural Extracts that helps lighten skin tone, Reduce Blackheads and Remove Dirt from the surface of Your Face Skin.
Foaming Face Wash for Glowing Skin and It also balances the Extra oil  with Apple Cider Extracts, leaves skin soft smooth and visibly lightened.
Foaming Face Wash helps to Deep Cleansing wash and also detoxify the skin. It makes the skin look visibly Brighter, Fresher. Foaming Face Wash for women & Men.
All the Natural ingredients used in this Face wash helps to making skin smooth & Soft . It also Gives You Natural Fairy skin & Clear & Glows skin.
Foaming Face Wash is specially formulated with all kinds of skin damage, Control Blackheads & Pigmentation . Best Foaming Face Wash For Oily & Dry Skin , All Skin Types & Restores Skin Vitality.
Discription :-
Luster Cosmetics Apple Cider Vinegar Foaming Face Wash With Built-In Brush | Made With Natural Ingredients | Foaming Face Wash For Women And Men | All Skin Types -100ml Luster Cosmetics Apple Cider Vinegar Foaming Face Wash Equipped with the Foaming Face Brush is Specially Formulated to lock your Pores with Intense Cleansing and Nourishment. It helps in Purifying Pores and Diffuse the Mulish Impurities, Leaves your Skin Clean, Clear and Radiant with Every Wash. The Packaging Includes In-Built Face Brush that is well Designed with Gentle Silicone Bristle to Give your Face Deep Cleansing on Surfaced and within Enlarged Pores. Helps your Skin to Fight against Acne and Blackheads. Gentle, Cleansing and Proactive Anti-Acne Care for your Skin with Luster Skin Science Apple Cider Vinegar Foaming Face Wash! It is Enriched with Pure Apple Cider Vinegar, Aloe vera Extract and Vitamins B5 and E for Cleansing, Healing and Hydrating Care to Get you Clear, Soft and Supple Skin. When Massaged on Damp Skin, its Rich foam Dissolves and Washes Away the Dead Skin Cells, Dirt and Pollutants from the Surface of your Skin and All the Open Pores. Apple Cider Vinegar Contained Helps Balance the Essential Skin Oils, Tighten the Open Pores and Lighten Blemishes. Best Foaming Face Wash For Women & Men For All Skin Types.
Usage : Apply Luster Cosmetics Apple Cider Vinegar Foaming Face Wash on a moist face and massage. Gently work up a lather using a circular motion. Wash off and pat dry and use twice daily.
Share
View full details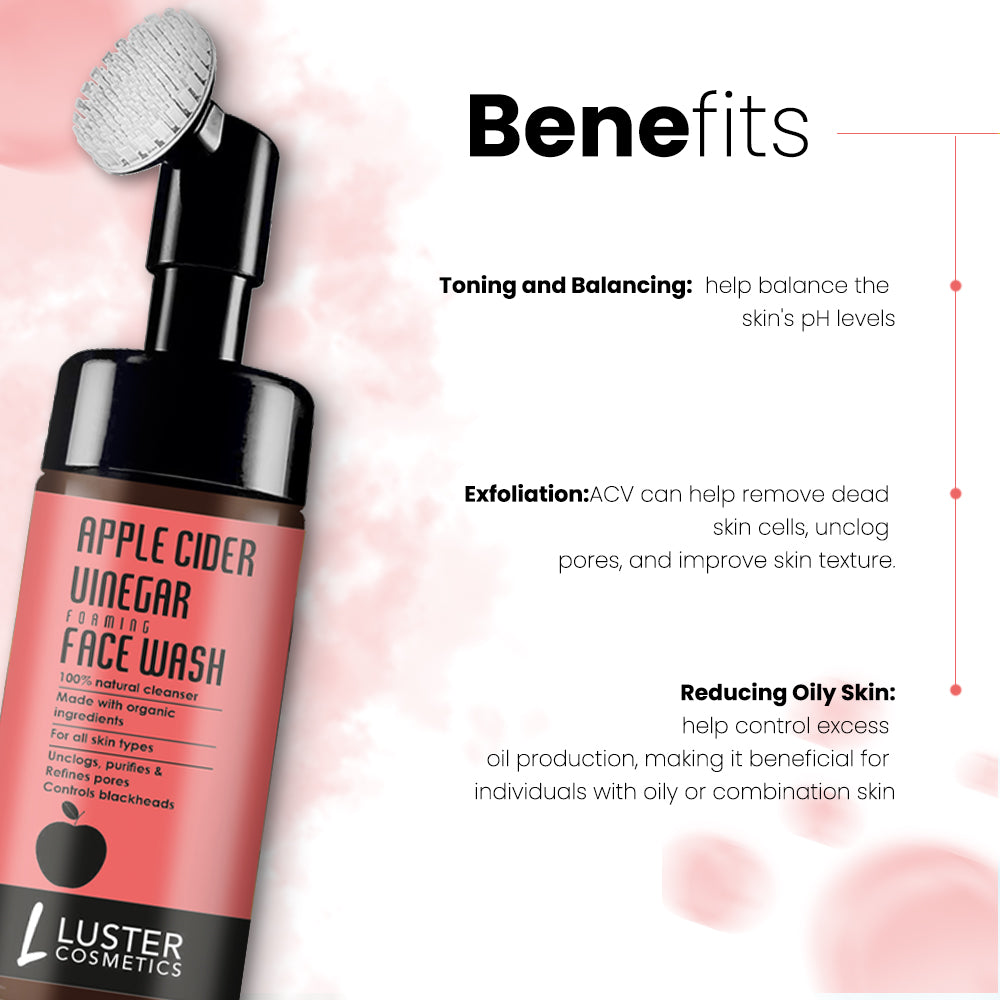 It is the best facewash I have ever used. It treats acne, remove blackheads and clear large pores. It makes ur skin look even brighter and also softens the skin. I had so many pimples on my face but after using this facewash it's all gone. It is suitable for all skin types. I highly recommend u to buy this product.
It has a very soft brush which clean your pores and you will notice cleaness in your 1st use and notice glow after 1 week of use. I think it will help. ✌✌
Very good product packaging is also good
I specially loved the packaging.... And the product is also quite well... It's a good product ... I liked it. 😀